Succession
Few events carry greater risk to value creation than changes of leadership. Most organizations have ineffective processes for finding and preparing the next generation of leaders. We understand that mapping out generations of future leaders is almost impossible to do alone. Our Enterprise GPS and LeaderShift Architect succession consultants help organizations clarify, enhance, design, and implement more effective succession strategies and planning processes.
Executive Succession
Our Enterprise GPS and LeaderShift Architect draws on our vast knowledgebase of executive assessments to create a whole person success profile aligned to the organization's strategy. We then assess internal and external candidates against it using multiple assessors and assessment techniques, including a unique simulation exercise that places candidates in realistic situations faced by an executive in a given role and environment. Our Enterprise GPS and LeaderShift Architect assessment process produces powerful insights for the Board, enabling them to make confident decisions about their next CEO, but also for the candidate themselves. This means the positive impact is far-reaching, advancing the capabilities of individual executives, top teams, and entire organizations.
Talent Review
Our powerful and proven Enterprise GPS and LeaderShift Architect talent review process gives an organization a clearer understanding of its talent at every level and reveals if its succession planning is—or is not—producing the leaders it needs. This research-based, validated, and repeatable process pinpoints development needs enabling organizations to develop their talent in a differentiated way to maximize individual and organizational impact.
Executive Development
We offer executive development against role gaps and group development against organizational gaps, as well as role-specific or strategic build/buy strategies.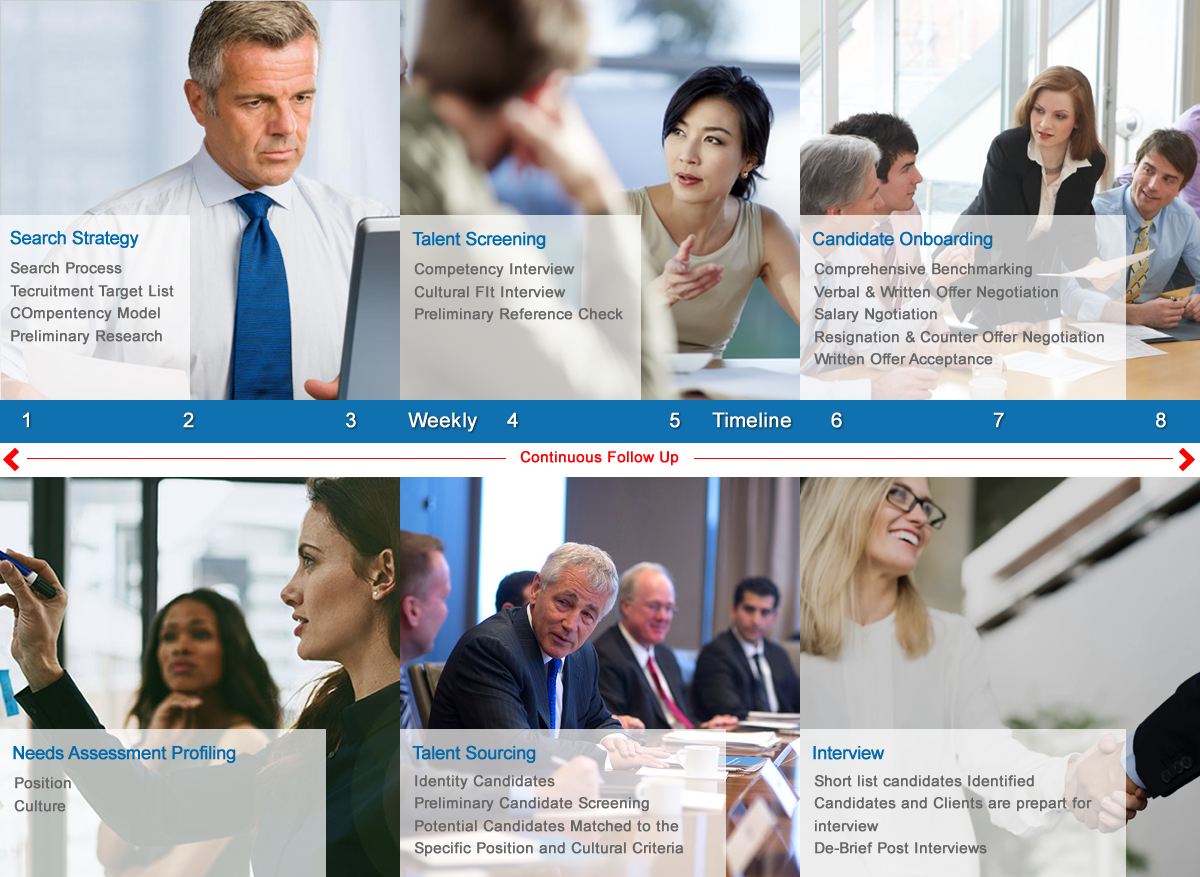 PERFECTED EXECUTIVE SEARCH PROCESS
Since every client is different, every executive search is unique. What remains constant are the high standards we apply when conducting an executive search. We employ a systematic approach that is both comprehensive in scope involving an in-depth investigation of a wide field of well-qualified individuals - and swift. We recognize that most of our clients have urgent needs, and we aim to meet those needs quickly.
We employ a detailed "Lean-Sigma" approach to our executive search process that employs our own internal "Best Practices" not the least of which include transparent milestones and value stream mapping. We conduct all executive searches as discreetly as possible, guaranteeing the confidentiality sought by clients and potential candidates alike.
Boutique executive search services with best in class global network, contacts and market mastery.
Deeply connected and engaged personal service approach, long-term investment in client community and 25 year history of strong relations with both Multi-National leaders and Private Equity partners.