LeaderShift Consulting
The transformational power of exceptional LeaderShift is undeniable. Today's unrelenting competitive pressures, shifting market dynamics and ever-increasing customer expectations, the most successful organizations will be those that have the right people in the top leadership roles working effectively together, an organizational culture that's aligned with the strategic direction of the business, and a commitment to developing the LeaderShift needed for the future.
For >25 years, we've been a premier Executive Search and LeaderShift advisory firm, providing the insight that organizations rely on to select and develop executives, set new leaders up for success, optimize team effectiveness, and evaluate and evolve their organizational cultures.
Mergers and Acquisitions
Regardless of the deal strategy or type, public, private and/or private equity, most M&A integrations fail to deliver the anticipated value due to weak talent management practices, inattention to culture and organizational issues, and conflict among senior team members. We partner with clients pre- and post-merger, to identify potential cultural barriers that may need to be overcome, define the capabilities required for critical roles in the merged company, and provide accurate, objective assessments that help companies select, retain and integrate the right people, in the rights seats at the right time for the business.
Organizational Culture, Talent and Strategy Alignment
A company's culture can make or break even the most insightful strategy, but it's a major lever of performance that companies often struggle to harness. Boards and management teams can help foster long-term shareholder value by deepening their understanding of culture and forging a culture that is aligned with the business strategy, especially when transformation is required. Our proprietary LeaderShift Architect cultural framework and diagnostic tools help companies define their current culture and identify the cultural styles that support their strategic imperatives. We use these insights to design and implement a target culture, and help teams make related leadership decisions.
C-Suite and Senior Executive Onboarding
The earliest days for a new leader, especially the C-Suite, represent a critical window for establishing the tone and agenda for the rest of every executive's tenure. With thoughtful planning, a new executive can use the first 100 days to lay the groundwork for success in many important areas: putting in place the right top leadership; evaluating the culture and whether it supports business strategy; and creating a strong working partnership with the board and critical stakeholders. We offer customized support to help new senior executives make the most out of this critical window, with a specific focus on enhancing individual and team effectiveness, building needed expertise, and defining and shaping the organization's culture.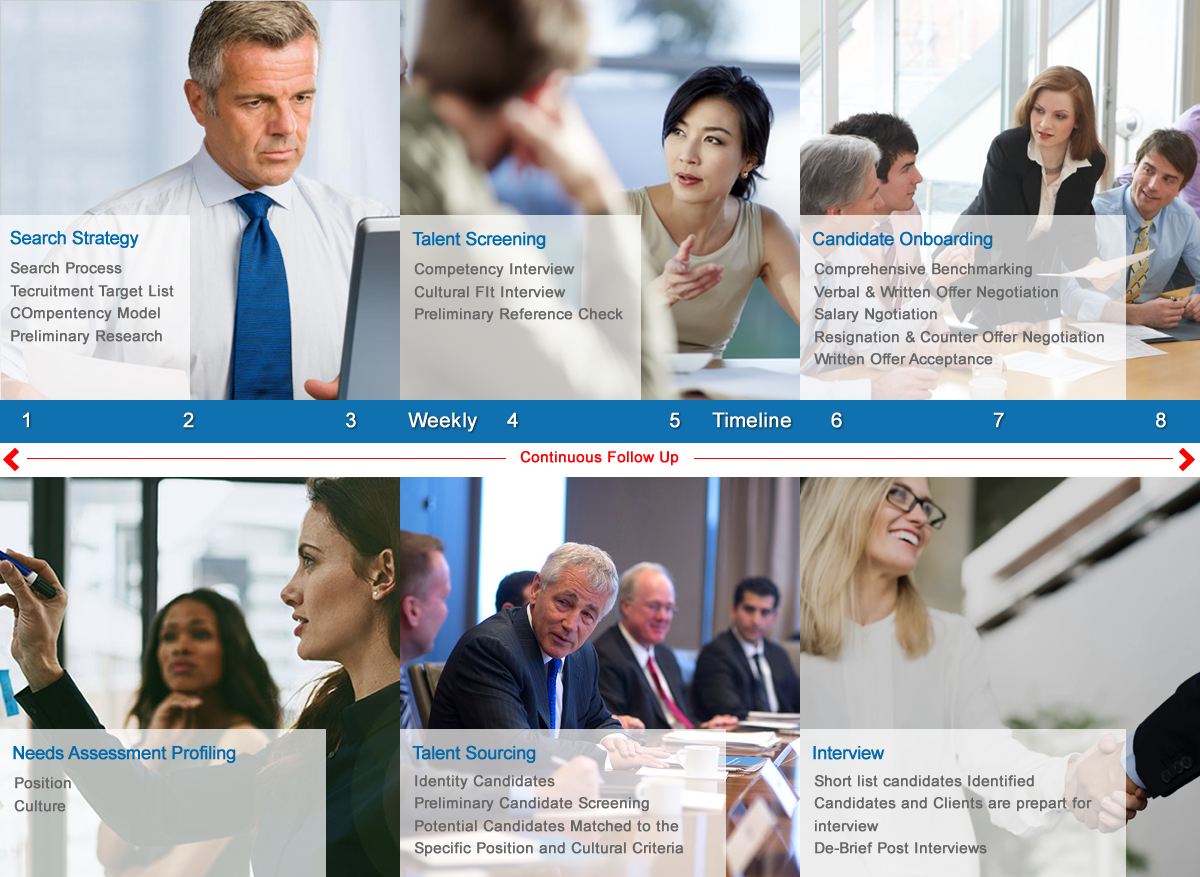 PERFECTED EXECUTIVE SEARCH PROCESS
Since every client is different, every executive search is unique. What remains constant are the high standards we apply when conducting an executive search. We employ a systematic approach that is both comprehensive in scope involving an in-depth investigation of a wide field of well-qualified individuals - and swift. We recognize that most of our clients have urgent needs, and we aim to meet those needs quickly.
We employ a detailed "Lean-Sigma" approach to our executive search process that employs our own internal "Best Practices" not the least of which include transparent milestones and value stream mapping. We conduct all executive searches as discreetly as possible, guaranteeing the confidentiality sought by clients and potential candidates alike.
Boutique executive search services with best in class global network, contacts and market mastery.
Deeply connected and engaged personal service approach, long-term investment in client community and 25 year history of strong relations with both Multi-National leaders and Private Equity partners.