Diversity And Inclusion
Years of experience in identifying and recruiting diverse candidates shapes our approach. Our vast network affords us the opportunity to access formal and informal contacts to broaden the research base. Additional emphasis is placed on research to identify diverse candidates. As a result, our focus reaches beyond individuals in a specific industry or functional area. Once diverse candidates with the requisite experience and track record are identified, our recruiters' engage in multiple conversations with the candidates, sharing their unique understanding of the specific client opportunity and the market, and the candidates' career objectives to win over the best diverse candidates.
Why is a targeted effort required to recruit diverse candidates?
Fewer in numbers, therefore more in demand.
Less inclined to change positions; strong loyalty to existing employers.
Company reputation and culture, job location, neighborhood and community are a larger consideration in decision making.
Why is it important to hire and maintain a diverse workforce?
The population of the U.S. is increasingly defined by its diversity. According to the most recent U.S. census, African Americans, Native Americans, Asian Americans and Hispanics constituted 20% of the nation's population. These groups are estimated to constitute almost half of the U.S. population by the year 2050.
Today women represent 46.6% of the workforce and that percentage is expected to continue to grow.
The expanding global reach of American business demands exposure to widely diverse consumers, cultures, ideas and viewpoints. A diverse group of employees has the ability to facilitate unique and creative approaches to problem-solving, arising from the integration of different perspectives.
A diverse group of employees is better able to develop products and services that appeal to a variety of consumers and to market offerings in a way that appeal to those consumers.
A racially diverse group of managers is better able to work with business partners, employees and clientele in the U.S. and around the world.
Once little more than a buzzword, diversity is a 21st century business priority - a driver for revenue and a means of creating the dynamic, adaptable workforce a global economy demands. And because our work is focused at the most senior levels, we understand that in order to leverage diversity, companies must diversify the top tier of management.
We believe that heterogeneous groups make better decisions and the consultants in our Diversity Practice have the breadth of background, experience and outlook required to engage a diverse candidate pool.
We treat diversity assignments with the same level of professionalism, discretion and long-term vision that characterizes all of our work. We identify diversity candidates through detailed research into organizational structures and executive backgrounds. To date, we have identified more than 5, 000 senior-level executives and have access to over 10,000 diversity executives in our database. We also track the career progression of high-potential diversity candidates in Fortune 1000 companies.
For every search we bring together the best possible team in terms of industry expertise, functional knowledge, diversity experience and location. We assemble a diverse pool of candidates, matching specific criteria such as functional background or language capability to the requirements of the role.
Our Diversity Practice operates globally - several of our U.S. clients ask us to share our perspectives on diversity with their international colleagues. Nevertheless, we are acutely aware that definitions and requirements for diversity differ from region to region.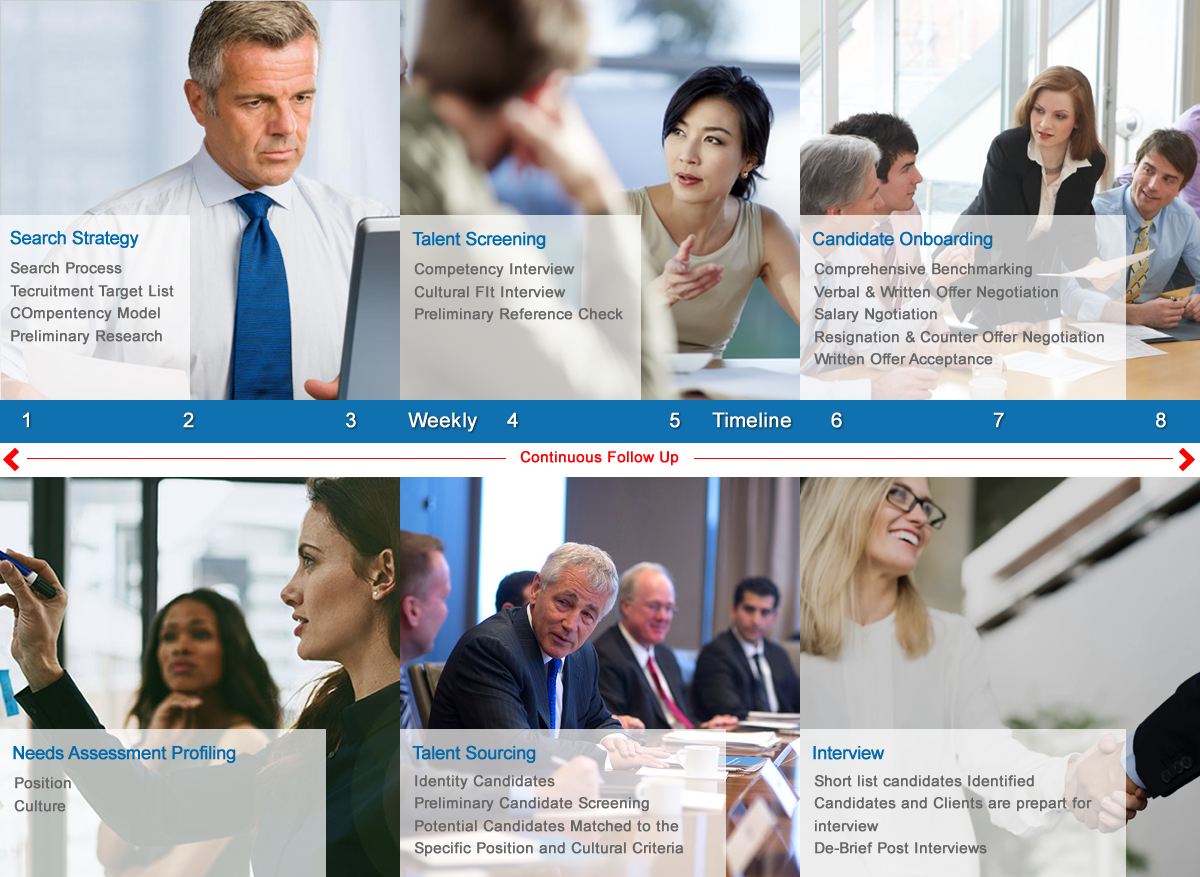 PERFECTED EXECUTIVE SEARCH PROCESS
Since every client is different, every executive search is unique. What remains constant are the high standards we apply when conducting an executive search. We employ a systematic approach that is both comprehensive in scope involving an in-depth investigation of a wide field of well-qualified individuals - and swift. We recognize that most of our clients have urgent needs, and we aim to meet those needs quickly.
We employ a detailed "Lean-Sigma" approach to our executive search process that employs our own internal "Best Practices" not the least of which include transparent milestones and value stream mapping. We conduct all executive searches as discreetly as possible, guaranteeing the confidentiality sought by clients and potential candidates alike.
Boutique executive search services with best in class global network, contacts and market mastery.
Deeply connected and engaged personal service approach, long-term investment in client community and 25 year history of strong relations with both Multi-National leaders and Private Equity partners.