Executive Search
Our Focus
Executive search and recruitment has been the cornerstone of our business since the foundation of the firm. Hunt Executive Search is dedicated to providing our clients with outstanding "A" Player executive level talent. The firm works at the senior executive levels with a focus on consumer products and retail, life sciences and industrial markets.
Your strategic goals
Our search process starts with understanding our clients, their company, culture and other intangibles that define what competencies needed to meet each client's strategic goals in a short and long term. Focusing on your strategic goals allows us to take a broader and innovative approach in evaluating and assessing potential candidates - particularly important as traditional leadership roles are dissolving and new are emerging.
Best-in-class consultants for each client
Hunt Executive Search relies on the talents of a strong and diverse team of dedicated search professionals to provide excellent service and results upon which clients have come to depend on. With over 100 years of combined experience in each practice group, our consultants have conducted thousands of searches, identifying and helping attract executives in the C-Suite, General Manager, VP and Senior Director level functional heads to client companies. Our consultants draw on their high-level professional networks, industry knowledge and internal resources that allow them to take broader and more creative approach in identifying potential candidates.
Our legacy
Since 1988 and every day since, Hunt Executive Search builds our legacy of quality service, innovation and exceeding client expectations. We know that attention to detail, discretion, diversity, and timeliness are essential and we never confuse efforts with results.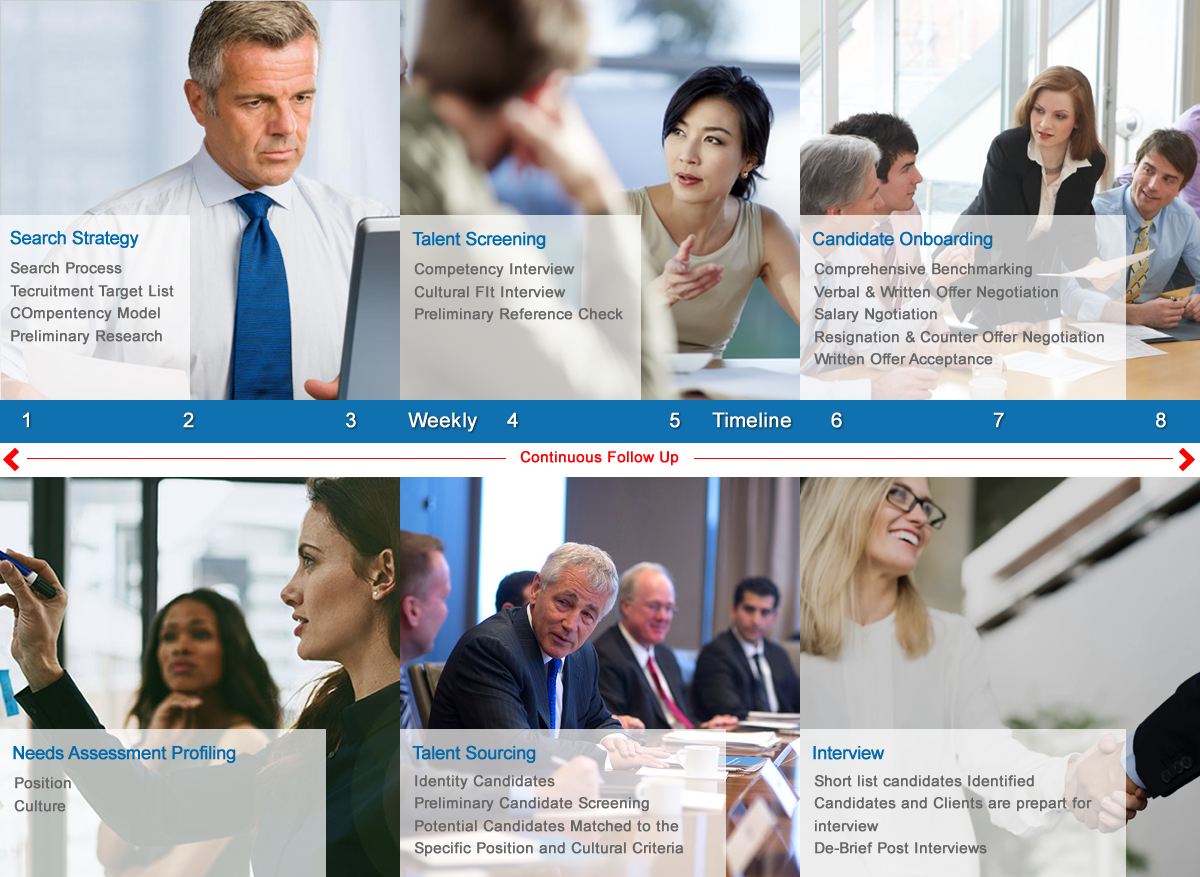 PERFECTED EXECUTIVE SEARCH PROCESS
Since every client is different, every executive search is unique. What remains constant are the high standards we apply when conducting an executive search. We employ a systematic approach that is both comprehensive in scope involving an in-depth investigation of a wide field of well-qualified individuals - and swift. We recognize that most of our clients have urgent needs, and we aim to meet those needs quickly.
We employ a detailed "Lean-Sigma" approach to our executive search process that employs our own internal "Best Practices" not the least of which include transparent milestones and value stream mapping. We conduct all executive searches as discreetly as possible, guaranteeing the confidentiality sought by clients and potential candidates alike.
Boutique executive search services with best in class global network, contacts and market mastery.
Deeply connected and engaged personal service approach, long-term investment in client community and 25 year history of strong relations with both Multi-National leaders and Private Equity partners.